Joe Crowley's campaign is in crisis
Life comes at you fast.
A month ago, U.S. Rep. Joseph Crowley (Establishment-NY) was looking untouchable, but, within a few, short weeks, his campaign started to unravel, leaving many in the media to speculate whether they were witnessing the beginning of the end for one of the most powerful politicians in New York City.

Crowley's race insensitivities
About two weeks ago, things began to change for Crowley. The Intercept published an article that took issue with how Crowley both brags about his Irish heritage and faults his primary challenger, A
lexandria Ocasio-Cortez, for discussing her Puerto Rican background. Remarks attributed to Crowley in the article included that, "I can't help that I was born White," and that it appeared to be, in manifest terms, his destiny to be a U.S. Representative and to challenge President Donald Trump (R). The Intercept reporter reminded many that Crowley had hired a lobbyist in order to attempt to kick a Latino section of the Bronx out of his Congressional District. After Crowley was a no-show at a bilingual debate, he lost the endorsement of a Queens Democratic Party political club. Next, U.S. Rep. Ro Khanna (D-CA) clawed back his sole endorsement for Crowley and "co-endorsed" Ocasio-Cortez. Criticism of the debate no-show and of the change in Khanna's endorsement opened the floodgates of criticism.
The duplicity of first voting to create ICE and then protesting against ICE.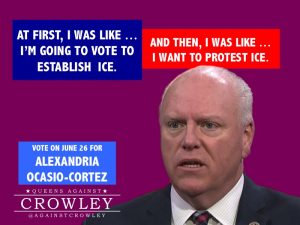 On Wednesday, Joseph Crowley (Establishment-NY) collapsed in a protest against the separation of families ordered by President Donald Trump (R).
As you know, Trump has been using the Immigration and Customs Enforcement (ICE) in on-going attacks against immigrants. Congressman Crowley protested on behalf of the immigrants and suffered a physical collapse in front of everyone. But he showed no shame for having, in 2002, voted to create ICE. Crowley was lucky, because he recovered from his fall. But immigrants have very few ways to fight against detentions or deportations by the agency that Crowley voted to create.
This year, Alexandria Ocasio-Cortez is running to replace Crowley in Congress. She has committed to close ICE. If you live in Queens or the Bronx, vote on June 26 for Alexandria Ocasio-Cortez for Congress.
Joe Crowley Hired a Lobbyist to Get Bronx Voters Out of His District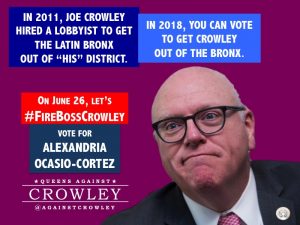 A recent tweet by journalist Ryan Grim revealed to many for the first time that, back in 2011, Joseph Crowley (Establishment-NY) hired a lobbyist to remove the Bronx from his Congressional district. The article Grim linked to explained that Crowley had concerns about that section of Bronx's demographic makeup, which is mainly Latino. Apparently, Crowley thought that such a dense concentration of People of Color would have made him vulnerable if he would ever have to face-off against a Latino challenger in the "democratic" primaries. Unfortunately for Crowley, that part of the Bronx remained within the 14th Congressional district, alongside large portions of Queens, some similarly with large minority populations, and while the two boroughs might be divided by the East River, this year, they are uniting against Crowley.
The attempt to disenfranchise Bronx voters by literally kicking them out of the district — because of their race — is something one might typically expect from a Republican, but, sadly enough, there are many Democrats, who also work to uphold systems of racial inequality when it benefits them politically, Crowley being one of them.