Prelude to the Biggest Upset of 2018: A Look Back at Elizabeth Crowley's Devastating Loss in Queens
Posted On June 5, 2018
Elizabeth Crowley lost — because the voters are tired of the Queens Machine
The Winds of Change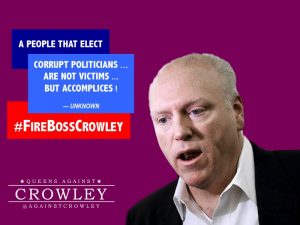 Many of those following national politics might be be unaware of a devastating development that occurred in Queens County back in the fall of 2017, and which foreshadows a potential upset in the upcoming contest for New York's 14th congressional district. Congressman Joseph Crowley's cousin, Elizabeth Crowley, was running as an incumbent in a City Council election against the relatively unknown centrist Robert Holden, who she defeated in the Democratic Party primary — only to eventually lose to him in the General Election by 137 votes. Elizabeth Crowley, who raised 10 times the amount of Holden, and who had the backing of Gov. Andrew Cuomo (Establishment-NY) and the Queens Machine, should have crushed Holden in the General. When the votes were totaled and recounted, however, Holden squeaked by — pulling off an upset that many had thought was impossible.
Part of a Larger Pattern
Elizabeth Crowley is not the only neoliberal Democrat the People have grown tired of. One might recall Christine Quinn's epic loss to Bill de Blasio in the 2013 mayoral race. Quinn's loss showed that the political left in America's biggest city was ready to challenge the corporatist, big money Democrats. Several years later, Democrats ignored that lesson when Hillary Clinton noteworthy downfall demonstrated that the Democratic base was no longer inspired by big money politics.
Increasingly, it is becoming clear that the Corporate Democrat, which is what Crowley emulates, is a thing of the past. 
That Elizabeth Crowley could not win a reëlection race in the belly of the Queens Machine — in places, like Maspeth, Ridgewood, and Woodside — demonstrated that voters were willing to reject the machine candidate, even one bearing the Crowley family name. As much as Joseph Crowley has the benefit of incumbency on his side, he is also dragging along something else — the heavy baggage of voter fatigue.
Machines Can be Broken
In 1961, reformers Jim Lanigan and Carol Greitzer defeated political boss Carmine DeSapio and the last remnants of the Tammany Hall political machine. It was possible then, and it's possible now.
Fast forward to the summer of 2018. Alexandria Ocasio-Cortez is waging an insurgent campaign against one of the most powerful Democratic Party bosses in the United States.
The Queens Machine is a relic of the past, and there is a new politics of accountability and reform on the horizon.
Ocasio-Cortez has history on her side. She came from the Bernie-wing of the Democratic Party, which is trying to return power within the Democratic Party to the people. The hero journey that Ocasio-Cortez is on has been travelled before, like by Greitzer. Holden showed that a Crowley could be defeated. On June 26, it's time to #FireTheBoss, to #FireBossCrowley.