Highlights from the Ocasio and Crowley NY14 Debate
Posted On June 18, 2018
Ocasio Scores Major Win Against Crowley on Issues That Matter Most to Queens and Bronx Voters
Below are some quotes from Alexandria Ocasio-Cortez from the NY14 congressional debate between her and Congressman Joseph Crowley, which was broadcast live last Friday, June 15th.
You can watch the full debate here. Also, please check out this great analysis by Briahna Gray at the Intercept.
Throughout the debate Ocasio held strong to her progressive politics and pushed back on Crowly's false claims to represent working families in Queens and the Bronx. Many of Crowley's responses referred to straw-man arguments and even a couple attempts to smear Ocasio. By the end of the debate, though, it was clear that, when it comes to fighting for working families and immigrant communities, Ocasio has a much greater grasp on what needs to get done.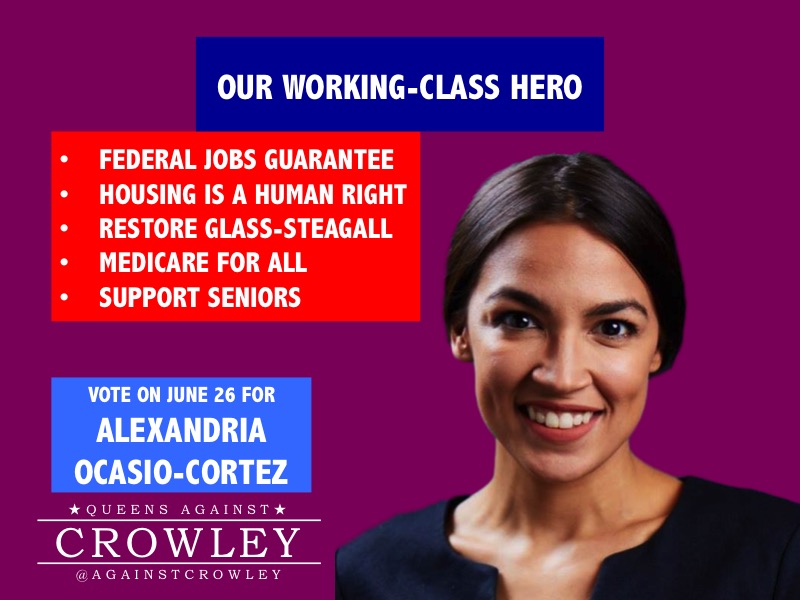 Ocasio introductory comments:
"For over 20 years the interests of working families have been sold off to luxury real estate developers, wall st banks, and for profit healthcare corporations, and for 20 years our rents have been going up, healthcare has been getting more expensive, and our incomes are staying the same."

"Not all democrats are the same, and I am proud to be the only Democrat in this race that rejects all corporate money, and champions and advances improved and expanded medicare for all, a federal jobs guarantee, tuition free public college, and the abolition of ICE."

"What I think is really important, in a district that is 85% democrat, overwhelmingly working class, and 70% people of color, we deserve a working class champion."
On Crowley being the Chair of the Queens Democratic Committee:
"I think its completely inappropriate to be chairman of a local democratic party. Imagine if Hillary Clinton or Bernie Sanders was the Chairman of the National DNC, while responsible for their own endorsement and the endorsement of others."

Read about Crowley's role as the Chair of the Queens Democratic Committee here and here.
On the 82nd Street Rezoning:
"Moreover, this is not just about diversity and race, but this is about class. And what we just saw, in the 82nd street rezoning for example, city councilman Moya approved, over overwhelming community protest, the introduction of a development that is going to displace working families, particularly immigrant families in these communities. THis is being used as an arm to exert the influence of Luxury real estate developers in New York City."

"The community board did not vote in approval of this rezoning, I was there, I spoke out against it. And what we saw was an almost unanimous vote against the rezoning."

"The lease that they had signed with Target has a non-compete built into it, so it is going to displace every single small business on that block. The affordable housing is not sufficient. And, I think, many of us who actually live here in New York City understand that these affordable housing definitions are actually much higher than what the average New Yorker can afford."

Read about the community response to the 82nd Street rezoning here.
On gun control:
"Let me make things very clear, I believe in a ban on assault weapons, I believe in a ban on bump stocks. Not only that, I also don't take money from private equity groups that have holdings in gun manufactures either."
On corporate PAC's:
"Corporations and corporate PAC's are really the real problem. About 99% of my opponents donations come from corporations, big money and lobbyist groups, and 80% of all of my donations to my campaign are less than $200."

Read about Crowley's campaign contributions here.
On the abolition of ICE:
"If this organization is as fascist as you have called it, then why don't you adopt the stance to eliminate it. This is a moral problem, and your response has been to apply more paper work to this situation, to have ICE collect more information on immigrants. And that puts our communities in danger, and it also conveys a profound misunderstanding of how we should be approaching this problem."
Get a Reminder to Vote on June 26